---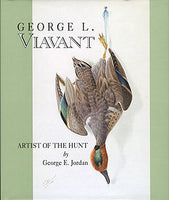 VIAVANT: ARTIST OF THE HUNT
GEORGE L. VIAVANT
Artist of the Hunt
By George E. Jordan 
Published by The Historic New Orleans Collection, 2003; 2nd printing 2015
hardcover • 8" × 9½" • 128 pp.• 65 color images and19 b/w images
ISBN 978-0-917860-48-5


Inspired by the bayous, marshes, and lagoons of southern Louisiana, artist George Louis Viavant (1872–1925) produced exquisite paintings of the birds, fish, and small game that he knew so well from years spent hunting on his family's property just outside of New Orleans. The illustrated biography relates the story of a man whose work won acclaim from hunters both in Louisiana and other parts of the country. Author George E. Jordan has used the Viavant family papers in the holdings of The Historic New Orleans Collection to trace the family's history and to describe Viavant's life as an artist of the hunt. Mr. Jordan also presents an analysis of the artist's works, placing Viavant's paintings in the context of the art world in New Orleans in the early 20th century. 

Featuring full-color reproductions of numerous works by Viavant from the holdings of local museums and private collections.

Barbara Viavant Broadwell sponsored the publication of George L. Viavant: Artist of the Hunt in memory of her father, James G. Viavant, and her grandfather George L. Viavant.