---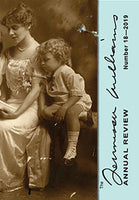 TENNESSEE WILLIAMS ANNUAL REVIEW 2019
The Tennessee Williams Annual Review
 2019
Publisher: The Historic New Orleans Collection
softcover • 6" x 9" • 114 pp. • 4 color images 
ISSN 1097-6035
ISBN 978-0-917860-77-5
The personal diaries of Edwina Dakin Williams, Tennessee Williams's strong-willed and long-suffering mother, open the 2019 issue of the 
Tennessee Williams Annual Review
. Housed in THNOC's Fred W. Todd Tennessee Williams Collection and published together in full for the first time, Edwina's entries offer a powerful view of young Tom Williams's tumultuous, sometimes violent childhood. The scholar John S. Bak's in-depth introduction and notes provide crucial context as readers immerse themselves in the raw material that Williams would eventually transform into 
The Glass Menagerie's
 unforgettable Amanda Wingfield. 
Inside the issue, Julie Vatain-Corfdir sheds new light on the shocking production of Jean Cocteau's French adaptation of 
A Streetcar Named Desire
, Michael S. D. Hooper explores homoeroticism in Williams's paintings, and Tom Mitchell investigates three still unpublished works by the playwright.
Finally, R. Barton Palmer reviews two recent books that offer personal insight into Williams: an account of the life of the teenager who broke Williams's adolescent heart, and the collected correspondence between the playwright and the influential editor James Laughlin.
Founded by Robert Bray in 1998 and now edited by R. Barton Palmer, the 
Review
 remains the only regularly published journal dedicated to the work, context, and influence of this preeminent American playwright.