---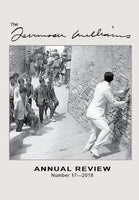 TENNESSEE WILLIAMS ANNUAL REVIEW 2018
Publisher: The Historic New Orleans Collection
softcover • 6" x 9" • 192 pp. • 3 color images; 14 b&w images
ISSN 1097-6035
The Tennessee Williams Annual Review
 is excited to announce the first appearance in print of Williams's "Provisional Film Story Treatment of The Gentleman Caller (First Title)," a revealing precursor to 
The Glass Menagerie
. Housed in THNOC's Fred W. Todd Tennessee Williams Collection, the typescript-part screenplay, part plot summary, sprinkled with suggested camera shots and providing different endings for stage and screen-spotlights 
Glass Menagerie's
 missing father, Tom Wingfield Sr., who takes center stage as the gentleman caller. 
In the essays that follow, Naghmeh Rezaie unpacks the Iranian director Bahram Tavakoli's 2011 film 
Here without Me
, a recreation of The Glass Menagerie in 21st-century Tehran. Barbara Neri uses Williams's references to the poet Elizabeth Barrett Browning to place Blanche DuBois in a history of love poetry stretching back to Dante and Petrarch, and Henry I. Schvey finds Williams using D. H. Lawrence to explore relations among physicality, sexuality, intellect, and instinct.
Alison Walls charts the use of martyr figures in the playwright's exploration of desire, suffering, and the quest for the divine, and R. Barton Palmer unveils the influence of Noël Coward, economics, and audience expectations on Williams's "serious comedy," 
Period of Adjustment
.
In the issue's review section, Tiffany Gilbert examines three recent scholarly books that track the playwright's engagement with culturally and legally risky themes, and Annette J. Saddik analyzes 
Grand Guignol: The Brother and Sister Play
, a 2017 production created from the works of Williams and Mary Shelley.
Founded by Robert Bray in 1998 and now edited by R. Barton Palmer, the Review remains the only regularly published journal dedicated to the work, context, and influence of this preeminent American playwright.