---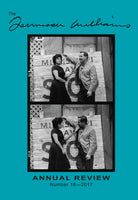 TENNESSEE WILLIAMS ANNUAL REVIEW 2017
TENNESSEE WILLIAMS ANNUAL REVIEW Number 16 - 2017
Publisher: The Historic New Orleans Collection 
Soft cover • 6" x 9" • 112 pp • 2 color images; 4 b&w images 
ISSN 1097-6035
The 2017 issue of the 
Tennessee Williams Annual Review
 showcases the exciting results of the journal's newly expanded scope. Breaking fresh ground for the Review is Tiffany Gilbert's opening essay, a study of Anna Magnani's acting style and performance of ethnic otherness as collaborative contributions to the film adaptations of 
The Rose Tattoo
 and 
The Fugitive Kind
.
The notorious "underwear anecdote" that dogged Williams in late life (and inspired two other playwrights to write about the episode) provides a springboard for John S. Bak's painstakingly researched biographical essay about Williams's time in Vancouver. Scouring interviews and letters, published and unpublished, Bak unearths important details about Williams's late career and uses both the facts and the fictions to shed new light on the playwright's creative process. 
At the issue's heart is Alicia Andrzejewski's intriguing study of 
The Glass Menagerie
: her reading of the text's treatment of queerness, identity, disability, and difference reveals subtle forms of agency and desire, making a much-studied text new again. Rounding out volume 16 is Bess Rowen's review of a recent staging of the rarely performed 
Kirche, Küche, Kinder (An Outrage for the Stage)
. 
Founded by Robert Bray in 1998 and now edited by R. Barton Palmer, the Review remains the only regularly published journal dedicated to the work and influence of this preeminent American playwright.