---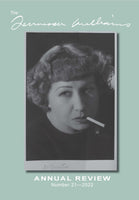 TENNESSEE WILLIAMS ANNUAL REVIEW 2022
Now available at 20% off!  Full price is $15.00.
Tennessee Williams Annual Review 2022
published by The Historic New Orleans Collection
softcover • 6" × 9" • 144 pp. • $15
21 color images, 19 b/w images
ISSN 1097-6035 • ISBN 978-0-917860-88-1
 "Wounded and crippled as she is, [Blanche] remains yet the little point of pure light in a muddy and vulgar turmoil of the South today. She is Tennessee . . . out of place, not accepted, given to vast and sudden sinning, but still proud."
—Elia Kazan, writing in his director's notebook
 Seventy-five years ago, A Streetcar Named Desire premiered on Broadway, where the first performance received a seven-minute standing ovation. The 2022 Tennessee Williams Annual Review commemorates the occasion and the play's universal appeal with images from THNOC's exhibition Backstage at "A Streetcar Named Desire": rarely seen photographs taken on the set of the 1951 film join images of early stage productions around the world, Kazan's director's notebook, and more. Essays dive into the play's first stage productions in Brazil and the USSR, discuss Blanche's tragic young husband, and follow Williams's iconic heroine into her twenty-first-century incarnation in Blue Jasmine.
Founded in 1998, the Tennessee Williams Annual Review remains the only regularly published journal devoted to Williams's works, influence, and cultural context. Many issues showcase a previously unpublished work by Williams. Submission guidelines and back issues are available at tennesseewilliamsstudies.org.
Cover image: Henriette Morineau as Blanche in Uma rua chamada pecado (Rio de Janeiro, 1948). Courtesy of FUNARTE / Centro de Documentação e Pesquisa.