---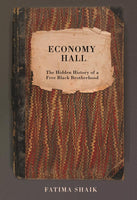 ECONOMY HALL: The Hidden History of a Free Black Brotherhood
Economy Hall: The Hidden History of a Free Black Brotherhood


by Fatima Shaik

ISBN: 978-0-917860-80-5
hardcover
$34.95
544 pages
62 images
6.5" (w) x 9.5" (h)
March 2021

In the face of an oppressive white society, members of the Société d'Economie et d'Assistance Mutuelle built a community and held it together through the era of slavery, the Civil War, Reconstruction, and Jim Crow terrorism. Economy Hall: The Hidden History of a Free Black Brotherhood follows Ludger Boguille, his family, and friends through landmark events—from the Haitian Revolution to the birth of jazz—that shaped New Orleans and the United States.

The story begins with the society's founding, in 1836. But it recommences in the 1950s, when the author's father rescues a century's worth of handwritten journals, in French, from a trash hauler's pickup truck. From the journals' pages emerged one of the most important multi-ethnic, intellectual communities in the US South: educators, world-traveling merchants, soldiers, tradesmen, and poets. Though Louisiana law classified them as men of color, Negroes, and Blacks, the Economie brothers rejected racism and colorism to fight for suffrage and education rights for all.

A descendant of the Economie's community, author Fatima Shaik has spent decades reading and translating the journals, and combing through 19th-century newspapers, legal cases, Congressional testimony, real estate records, and Creole family histories. In Economy Hall, she has constructed a meticulously detailed nonfiction narrative that reads like an epic novel.

Fatima Shaik was born in the historic Seventh Ward of New Orleans and bred on the oral histories told by her Creole family and neighbors. A former assistant professor at Saint Peter's University (NJ) and daily journalist, Shaik is a trustee of PEN America and former board member of The Writers Room in New York City. She is the author of six previous books of fiction. Economy Hall is her first nonfiction work.