---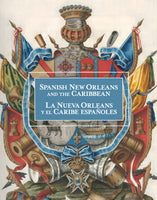 SPANISH NEW ORLEANS AND THE CARIBBEAN
Alfred E. Lemmon, Light Townsend Cummins, and Richard Campanella
The Historic New Orleans Collection 2022 • hardcover
8″ × 10″ • 182 pp.
80 color images
ISBN 978-0-917860-81-2
English & Spanish

New Orleans has long been identified—by locals, tourists, and historians alike—with its French heritage. A groundbreaking exhibition at The Historic New Orleans Collection restores balance to that assessment. During four decades under Spanish rule (1763–1802), the city experienced natural disaster, diplomatic tensions, and demographic transformation. Despite numerous challenges, Spanish New Orleans morphed from a poorly managed outpost on the edge of an empire to a highly urbanized colonial capital—one enriched by the racial and cultural diversity for which it is celebrated today. This densely illustrated bilingual catalog illuminates the history and lasting legacy of the Spanish period in Louisiana.
The Historic New Orleans Collection is a nonprofit institution dedicated to the stewardship of the history and culture of New Orleans and the Gulf South. Founded in 1966 through the Kemper and Leila Williams Foundation, THNOC operates as a museum, research center, and publisher in the heart of the French Quarter.

Por mucho tiempo, Nueva Orleans ha sido identificada, por lugareños, turistas e historiadores por igual, por su legado francés. Una exposición innovadora en la Historic New Orleans Collection restituye la armonía de esta apreciación. Bajo dominio español durante cuatro décadas (de 1763 a 1802), la ciudad sufrió desastres naturales, tensiones diplomáticas y una transformación demográfica. A pesar de numerosos desafíos, la Nueva Orleans española se transformó de un puesto de avanzada pobremente administrado en las fronteras de un imperio a una capital colonial altamente urbanizada, enriquecida por la diversidad racial y cultural por la cual es reconocida hoy en día. Este catálogo bilingüe copiosamente ilustrado aclara la historia y el perdurable legado del período español en Luisiana. The Historic New Orleans Collection es una institución sin fines de lucro dedicada a la protección de la historia y cultura de Nueva Orleans y el Golfo del Sur. Fundada en 1966 mediante la Kemper and Leila Williams Foundation, el THNOC opera como un museo, centro de investigación y editorial en el corazón del Barrio Francés.