---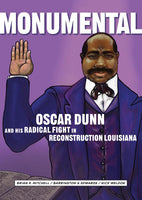 MONUMENTAL: Oscar Dunn and His Radical Fight in Reconstruction Louisiana
Monumental: Oscar Dunn and His Radical Fight in Reconstruction Louisiana

by Brian K. Mitchell, Barrington S. Edwards, and Nick Weldon
ISBN: 978-0-917860-83-6
paperback $19.95
256 pages 180 fully illustrated pages; 12 additional images
7" x 10"
March 2021
2022 Organization of American Historians Civil War and Reconstruction Book Award, Honorable Mention
2022 NCTE Orbis Pictus Recommended Book (link)
2021 "Great Reads from Great Places" Selection for Louisiana, National Book Festival of the Library of Congress (link)
2021 SDUSMP Phillis Wheatley Book Award (link)
2021 SEMC Publications Competition Silver Medal, Books and Catalogues (link)
2021 Publishers Weekly Graphic Novel Critics Poll, Honorable Mention (link)
Monumental tells, for the first time, the incredible story of Oscar James Dunn, a New Orleanian born into slavery who became America's first Black lieutenant governor and acting governor. A champion of universal suffrage, civil rights, and integrated public schools, Dunn fought for radical change during the early years of Reconstruction in Louisiana, a post–Civil War era rife with corruption, subterfuge, and violence. In life, allies and rivals praised him for his integrity and political talent.
After his mysterious death, at the height of his feud with Governor Henry Clay Warmoth, New Orleans honored Dunn with one of the largest funeral processions in its history, and he was hailed as an African American icon. The state approved a monument to be erected in his memory, but it was never built. Dunn's accomplishments, and those of many other Black politicians who emerged during Reconstruction, faded from memory.
A graphic history informed by newly discovered primary sources, Monumental resurrects, in vivid detail, Louisiana and New Orleans after the Civil War—and presents an iconic American life that never should have been forgotten. Contextual essays, a map, timeline, and endnotes add layers of depth to the narrative. Monumental is a story of determination, scandal, betrayal—and how one man's principled fight for equality and justice may have cost him everything.
Brian K. Mitchell is assistant professor of history at the University of Arkansas, Little Rock, and an associate faculty member at the Anderson Institute on Race and Ethnicity. A New Orleans native, Mitchell received a PhD in urban studies with a concentration in public history at the University of New Orleans. Mitchell's writing and research primarily deals with race, violence, and the Elaine Massacre, and has been featured by CNN, NPR, and the Associated Press.
Barrington S. Edwards, an artist and community activist from Boston, earned a BFA in communication design and an MS in art education at the Massachusetts College of Art. He taught visual arts at the Boston Arts Academy for nineteen years. He is an award-winning teacher and artist, a publisher of comics and graphic media, and works as a freelance artist and consultant. He teaches art education at the Massachusetts College of Art and Design.
Nick Weldon is associate editor at The Historic New Orleans Collection, where he edited Enigmatic Stream: Industrial Landscapes of the Lower Mississippi River by Richard Sexton (2019), and materials for several major exhibitions. He was previously senior editor at Runner's World, and has written about a wide range of topics for outlets including Backpacker, SB Nation, Vice, New Orleans magazine, Garden and Gun, Paper Monuments, Sports Illustrated, and ESPN.com.