---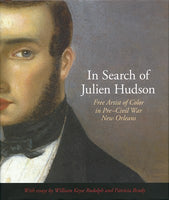 IN SEARCH OF JULIEN HUDSON
In Search of Julien Hudson: Free Artist of Color in Pre-Civil War New Orleans

9.5" x 8"
114 pages


Julien Hudson was born January 9, 1811, in New Orleans. The son of Desirée Marcos, a property-owning free woman of color, and John Thomas Hudson, an English merchant, ironmonger, and ship chandler, Hudson took up his career in painting after a brief stint as a tailor's apprentice in the mid-1820s. He trained first in New Orleans with itinerant miniaturist Antonio Meucci and later in Paris with well-known artist Alexandre Abel de Pujol. Little is known about Hudson's personal life, outside of scattered details found in a handful of public documents and a pair of early-twentieth-century reminiscences by former student George Coulon and prominent Creole of color Rodolphe Desdunes.

Hudson's story is alluring, frustrating, and poignant. An artist who died young and left a fragmentary body of work, he offers a path into a unique historical moment in a city that has always provided ample fodder for commentary, invention, fantasy, and fascination. His artistic reputation rests upon a handful of secure paintings and a group of attributed works. Only one work can be more or less traced from the easel to its current location. Another passed through the hands of one of Louisiana's most important early art collectors. And one-and possibly two others-may have intersected with one of the most powerful free families of color in the state. Nothing can definitively be proven about these works or their histories, ensuring that the aura of mystery surrounding them-and their maker-will undoubtedly persist.

In Search of Julien Hudson: Free Artist of Color in Pre?Civil War New Orleans is the most thorough examination to date of Julien Hudson and his world. Carefully researched and written by art historian William Keyse Rudolph and historian Patricia Brady, In Search of Julien Hudson serves as a guide to a 2011 exhibition by the same name at the Historic New Orleans Collection, Gibbes Museum of Art, and Worcester Art Museum. This lavishly illustrated volume is the fourth entry in The Collection's Louisiana Artists Biography Series.