---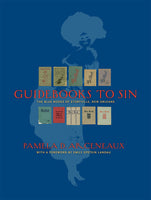 GUIDEBOOKS TO SIN: THE BLUE BOOKS OF STORYVILLE, NEW ORLEANS
GUIDEBOOKS TO SIN: THE BLUE BOOKS OF STORYVILLE, NEW ORLEANS
Guidebooks to Sin: The Blue Books of Storyville, New Orleans
by Pamela D. Arceneaux
with a foreword by Emily Epstein Landau
published by The Historic New Orleans Collection February 3, 2017
hardcover • 9" × 12" • 160 pp
320 color images
$50 
ISBN 978-0-917860-73-7

Between 1897 and 1917, a legal red-light district thrived at the edge of the French Quarter, helping establish the notorious reputation that adheres to New Orleans today. Though many scholars have written about Storyville, no thorough contemporary study of the blue books-directories of the neighborhood's prostitutes, featuring advertisements for liquor, brothels, and venereal disease cures-has been available until now.

Pamela D. Arceneaux's examination of these rare guides invites readers into a version of Storyville created by its own entrepreneurs. A foreword by the historian Emily Epstein Landau places the blue books in the context of their time, concurrent with the rise of American consumer culture and modern advertising. Illustrated with hundreds of facsimile pages from the blue books in The Historic New Orleans Collection's holdings, Guidebooks to Sin illuminates the intersection of race, commerce, and sex in this essential chapter of New Orleans history.



"Guidebooks to Sin is the single most comprehensive and authoritative guide to Storyville's notorious blue books. Pamela D. Arceneaux carefully sorts out the genuine and the fake, the accurate and the apocryphal, to produce an invaluable resource for historians, collectors, and anyone interested in New Orleans history."
-Gary Krist, author of Empire of Sin

"A classy, smart look at Storyville."
-Christine Wiltz, author of The Last Madam

"Anyone who wants to take a very close and careful look at these sources, for pleasure or for analytical purposes, should use this book as their guide. The provenance chapter, tracing how those publications were collected and then transferred over time between discerning collectors interested in rare books and, only later, the history of New Orleans, is an interesting tale in and of itself."
-Alecia P. Long, author of The Great Southern Babylon


From the foreword by Emily Epstein Landau

 


"'To know a thing or two, and know it direct, go through this little book and read it carefully.' These words come from Storyville's infamous blue books, and one would be wise to follow this advice with regard to the present volume, ably written and composed by Pamela D. Arceneaux: to know a thing or two about the blue books, read on! . . .
The blue books were tour guides to Storyville, New Orleans's notorious turn-of-the-century red-light district. They were directories of prostitutes and houses of prostitution, and they provide a rare window onto this infamous demimonde. They also help us situate Storyville within larger cultural contexts, such as the development of big business and advertising as part of America's transition into a consumer society during the same time period. And so, the books reveal something about Storyville's place in these broader transformations."
-Emily Epstein Landau


About the authors
Pamela D. Arceneaux is senior librarian and rare books curator at The Historic New Orleans Collection, where she has worked since 1981. A native of Panama City, Florida, she grew up in Thomasville, Georgia, before receiving a BA in history from West Georgia College (now the University of West Georgia) and an MLS from Louisiana State University. In recognition of her contributions as an outstanding librarian in a specialized field, the Louisiana Library Association presented the Lucy B. Foote Award to her in 1999. She resides in Metairie, Louisiana, with her husband, Paul.

Emily Epstein Landau received her PhD in American history from Yale University. She is the author of Spectacular Wickedness: Sex, Race, and Memory in Storyville, New Orleans (Louisiana State University Press, 2013). She teaches history at St. Albans School in Washington, DC, where she lives with her husband and two daughters.