---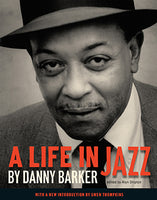 DANNY BARKER A LIFE IN JAZZ
DANNY BARKER A LIFE IN JAZZ
A Life in Jazz
by Danny Barker
edited by Alyn Shipton
with a new introduction by Gwen Thompkins
Volume 3 of the Louisiana Musicians Biography Series
Published by The Historic New Orleans Collection, December 1, 2016
$39.95 • hardcover • 8" × 10" • 254 pp. • 115 color and b/w images
ISBN 978-0-917860-71-3

Danny Barker (1909-1994) was born when jazz was still in its infancy, and by the time of his death he was known as both a master of the idiom and a guardian of its history. Storyteller, researcher, songwriter, performer, and mentor, Barker was a true griot-an elder statesman of jazz and an international representative of New Orleans and African American culture.

In more than 60 years as a working musician, he followed the evolution of jazz from its New Orleans roots to mainstream success during the swing era to canonization as America's first wholly original art form. In his career as a songwriter, which yielded the hit "Don't You Feel My Leg," Barker combined traditional song forms with sly humor about sex and human nature. More than any other jazz artist, he worked to document the music's history and to tell the stories of its people.

A Life in Jazz, first published in 1986 and edited by British jazz scholar Alyn Shipton, captures the breadth of Barker's knowledge and the scope of his vision as a storyteller. His carefully crafted set pieces range from hilarious to harrowing, and he shares memories of jazz greats such as Jelly Roll Morton, Cab Calloway, and Dizzy Gillespie. Barker's prose reflects the freedom and creativity of jazz while capturing the many injustices, both casual and grand, of life as a black man in midcentury America.

This illustrated edition of A Life in Jazz brings Barker's autobiography back into print, accompanied by more than 100 images that bring his story to life. Journalist Gwen Thompkins, host of public radio's Music Inside Out, reflects on Barker's legacy in her introduction, and the complete discography and song catalog showcase the breadth of Barker's work. Through his struggles, triumphs, escapades, and musings, A Life in Jazz reflects the freedom, complexity, and beauty of this thoroughly American, black music tradition.