---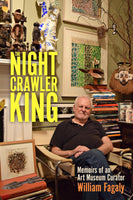 THE NIGHTCRAWLER KING
By
 William Fagaly
Hardcover 
9781496829818
384 pages
40 color illustrations
December 2020
While growing up in rural Indiana during World War II, William Fagaly began his first venture—collecting and selling earthworms to locals—from which he was christened with a childhood moniker. The Nightcrawler King: Memoirs of an Art Museum Curator is a narrative of Fagaly's life told in two parts: first, his childhood experiences and, second, his transformation into an adult art museum curator and administrator in Louisiana.
With a career that coincided with the dramatic growth of museums in the United States, Fagaly adds a unique perspective to New Orleans history, which highlights Louisiana history and establishes how it resonates around the nation and world. Offering a rare and revealing inside look at how the art world works, Fagaly documents his fifty years of experience of work—unusually spent at a single institution, the New Orleans Museum of Art. During this past half century, he played an active role in the discovery and appreciation of new areas of art, particularly African, self-taught, and avant-garde contemporary. He organized numerous significant art exhibitions that traveled to museums across the country and authored the accompanying catalogs.
Fagaly's cherished memories and the wonderful people who have touched his life are showcased in this memoir—friends, family, university professors, museum colleagues, art historians, visual artists, musicians, art dealers, art collectors, patrons, and partners—even his cats.
"Bill Fagaly writes in a lively manner, at times both serious and humorous. He excels in writing profiles of the specific personalities encountered in the art world: the scholarly, creative, philanthropic, social, and eccentric. This is a wonderful account of an insider's view of the contemporary art world!"

- E. John Bullard, director emeritus at the New Orleans Museum of Art
"It's probably safe to say that no one has lived the life of a museum curator with quite the joie de vivrethat William Fagaly has achieved in New Orleans, with his multiple overlapping achievements in African, self-taught, and contemporary art, and the rich panorama of friendships he's enjoyed, which include some of the most fascinating artists, musicians, writers, chefs, collectors, patrons, art historians, and gallerists of our time. For more than fifty years, as chief curator at the New Orleans Museum of Art, he was witness to, and participant in, some truly remarkable chapters in the cultural life of the country's most exotic and hard-to-know city. Guided by impeccable insider's credentials, Fagaly's unquenchable love of art and people shines through in this generous, affable memoir, wherein he achieves the seemingly impossible task of making a life that overflows with unforgettable art, music, and people seem as effortless as polishing off a bowl of gumbo. "

- Dan Cameron, founding director of Prospect New Orleans
"When Bill Fagaly came to New Orleans in the 1970s he did what so many long to do when they first arrive in that city but few achieve: he stayed there, he embraced it, and he added greatly to its unfathomable riches. New Orleans embraced Bill back and, out of that decades-long relationship, sprang a series of exhibitions and friendships and influences outward and inward. It is marvelous to have Bill's account of his adventures, written exactly as they would have been spoken by Bill, sharing something delicious in his soulful French Quarter home. "

- Jane Livingston, author and curator
"Bill Fagaly made major contributions to the city of New Orleans and its artistic history. The Nightcrawler King recounts his experiences and details the life of an individual involved with the art world during a time of change and exploration. "

- Howard Philips Smith, author of Unveiling the Muse: The Lost History of Gay Carnival in New Orleans and A Sojourn in Paradise: Jack Robinson in 1950s New Orleans