---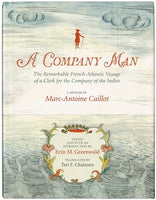 A COMPANY MAN PAPERBACK
A Company Man: The Remarkable French-Atlantic Voyage of a Clerk for the Company of the Indies
A memoir by Marc-Antoine Caillot

edited by Erin M. Greenwald
translated by Teri F. Chalmers
book design by Alison Cody

The Historic New Orleans Collection 2016 • $25 • paperback
224 pages, 23 color images, 20 b&w images
ISBN 978-0-917860-69-0 

Named one of the Top 10 Books of 2013 by the Times-Picyaune

The Historic New Orleans Collection presents the fascinating, uncensored travelogue of a young Frenchman who ventured to New Orleans in 1729.

Recently rediscovered and never before published, Marc-Antoine Caillot's buoyant memoir has been translated from the original French and published, with an introduction and annotations by THNOC staff historian Erin Greenwald, as A Company Man: The Remarkable French-Atlantic Voyage of a Clerk for the Company of the Indies.

Caillot was only 21 when he left his family in Paris to embark on his overseas adventure. His assignment to Louisiana was hardly coveted: the colony was one of the company's least desirable destinations, thanks to an unforgiving climate and limited resources, and its capital, New Orleans, was only a decade old.

Yet with humor and insight, Caillot documents episodes major and minor-from the Natchez Massacre to New Orleans's earliest documented Carnival celebration to his own string of pranks and romantic escapades. His words speak with immediacy across the centuries, illuminating racial and ethnic politics, environmental concerns, and the birth of New Orleans's distinctive cultural mélange.

That Caillot's intended audience was likely an intimate circle of friends-rather than professional or royal supervisors-distinguishes his manuscript from other travelogues of the period. In her introduction, Greenwald notes that his account "was never subjected to censorship by the company or king, making it an exceptional example of a fully narrative account, unhindered by the literary conventions of polite society."

Caillot's handwritten and illustrated manuscript endured an adventure almost as intriguing as his own: it is believed to have languished in the library of an Augustinian convent in France for well over a century. At some point it was bound together with another, unrelated book. In 1939 a group of nuns brought it to Canada. THNOC acquired it in 2004, and Greenwald spent several years investigating the manuscript and the man who wrote it. Her research took her to nine archives in France and several in the States, including THNOC's own holdings.

Greenwald describes the immeasurable value of Caillot's narrative to the field of colonial Louisiana history, noting that the manuscript may be one of the field's most significant finds in well over a century.