---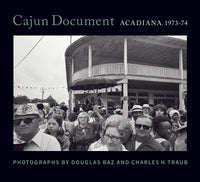 CAJUN DOCUMENT Acadiana, 1973–74
Cajun Document
Acadiana, 1973-74
by Douglas Baz and Charles H. Traub
In 1973 and '74, two young photographers fresh out of art school in Chicago spent over six months documenting the southern Louisiana region known as Acadiana, as well as its coastal outposts to the east, where terra firma snakes through marshlands leading to the Gulf of Mexico. Little did they know that the region was on the verge of great change: over the following decade, a boom in oil and natural gas production would reshape the local economy, while Cajun music and food would become known the world over through cultural exportation and preservation efforts. During their stay, Douglas Baz and Charles H. Traub aimed to capture on film the people, environment, occupations, festivals, and material life of a singular place in America. Never before published together or exhibited as a group, the images in Cajun Document illuminate the cultural threads woven through southern Louisiana at a liminal time in its history.
ABOUT THE PHOTOGRAPHERS
Douglas Baz is a freelance photographer practicing in New York's Hudson Valley. A founder of Bard College's program in fine art photography, he has exhibited widely and has received awards and grants from the National Endowment for the Arts and the New York Foundation for the Arts, among others. His work is in a number of permanent collections, including the Library of Congress, the Museum of Modern Art, the George Eastman Museum, the Wallace Foundation, and the National Gallery of Canada.
Charles H. Traub is chair and founder of the MFA program in photography, video, and related media at the School of Visual Arts in New York City. Formerly the director of New York's prestigious Light Gallery and, for over twenty-five years, president of the Aaron Siskind Foundation, he is one of the cofounders of Here Is New York: A Democracy of Photographs. Traub is the editor and author of sixteen books, including eight monographs of his own work, and his editorial photographs have been published in the major magazines of the world. Recent publications include Lunchtime (2015), Taradiddle (2018), and Skid Row (2019).