---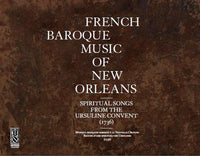 FRENCH BAROQUE MUSIC OF NEW ORLEANS
FRENCH BAROQUE MUSIC OF NEW ORLEANS
SPIRITUAL SONGS FROM THE URSULINE CONVENT (1736)

Edited by Alfred E. Lemmon, with essays in English by Jennifer Gipson, Andrew Justice, Alfred E. Lemmn, and Mark McKnight and in French by Jean Duron

Publisher: The Historic New Orleans Collection 2014
softcover - 296 pp - 255 page full-color facsimile
ISBN: 978-0-917860-65-2
ISMN: 979-0-800031-00-7


The oldest known musical document in Louisiana history is now available to music and history lovers worldwide, thanks to the release of The Historic New Orleans Collection's newest title, French Baroque Music of New Orleans: Songs from the Ursuline Convent (1736). The book features a full-color facsimile of an 18th-century illustrated collection of songs, which the Ursuline convent received in 1754 and has never before been published. 

The Ursuline Sisters were the first Catholic nuns to arrive in the New World and were among the earliest European settlers of Louisiana. Their mission included educating young women, many of them the daughters of French colonists.

The songs, called contrafacta, could be considered baroque versions of remixes: poets took popular tunes by leading composers, such as Jean-Baptiste Lully and François Couperin, and changed the lyrics from secular to sacred. Women and the Catholic faithful were the intended audience for these compositions, the idea being that devotional texts would allow them to enjoy the pleasures of current music without compromising their virtue. 

French Baroque Music of New Orleans is intended to serve researchers, performers, and lovers of baroque music and colonial Louisiana history. The Ursuline manuscript's 294 musical works are reproduced in a beautiful full-color, full-size facsimile, and the accompanying essays-four in English with French summaries and one in French with an English summary-illuminate the object's poetic, musical, historical, and bibliographic contexts.