---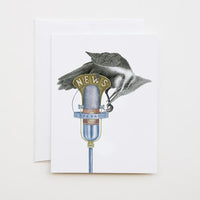 Barkley McClure Pileated Woodpecker Note Card
4.25 x 5.5", blank inside
ON THE BACK OF THE CARD:
Barkley McClure, Pileated Woodpecker: a bird of few words, a bird of many words. He is not one to talk simply for the sake of talking. Instead, Barkley only speaks when he has something to say that he has thought about; that he feels will make a difference. But, he also loves to listen. And when he's doing the latter, you can almost hear the gears turning in his head. Philosophies shifting, ideas forming. His eyes sparkle like sunshine on the lake in his utter delight.
But, despite his love of company, Barkley is also a bit of a nester. He loves perching in the front window of his beautifully carved and comfortably appointed home rather than galavanting around town. This, understandably, would have made visiting with his friends difficult, but they had an idea. One day, a day quite a long time ago, they all joined together - for their own benefit as much as for his - and built a radio station within the tulip poplar tree that Barkley calls home.
From the very moment he first sat down at the mic, Barkley was transfixed.  To his absolute joy, and to that of the community, CBRK broadcasts 35 watts at 104.5 Mhz on the FM dial.  It is idea-changing radio, and Barkley wouldn't change a thing.
WE DONATE:
Thanks to your purchases, we donate 10% of gross sales to animal welfare causes: our raison d'être. We donate to different organizations as needs change; please visit The Log for the skinny on our latest sponsorships.
PROTECTING OUR PLANET:
lecanotrouge Art Prints are printed exclusively on 100% cotton fiber velvet fine art paper with an acid free base.  This archival, tree-free paper helps protect our forests while also allowing us to produce prints with colour that really pops.  
Proudly made in the USA