---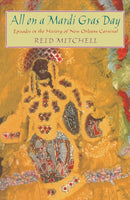 ALL ON A MARDI GRAS DAY (P)
With this colorful study, Reid Mitchell takes us to Mardi Gras—to a yearly ritual that sweeps the richly multicultural city of New Orleans into a frenzy of parades, pageantry, dance, drunkenness, music, sexual display, and social and political bombast. In All on a Mardi Gras Day Mitchell tells us some of the most intriguing stories of Carnival since 1804. Woven into his narrative are observations of the meaning and messages of Mardi Gras—themes of unity, exclusion, and elitism course through these tales as they do through the Crescent City.
Moving through the decades, Mitchell describes the city's diverse cultures coming together to compete in Carnival performances. We observe powerful social clubs, or krewes, designing their elaborate parade displays and extravagant parties; Creoles and Americans in conflict over whose dances belong in the ballroom; enslaved Africans and African Americans preserving a sense of their heritage in processions and dances; white supremacists battling Reconstruction; working-class blacks creating the flamboyant Krewe of Zulu; the birth and reign of jazz; the gay community holding lavish balls; and of course tourists purchasing an authentic experience according to the dictates of our commercial culture. Interracial friction, nativism, Jim Crow separatism, the hippie movement—Mitchell illuminates the expression of these and other American themes in events ranging from the 1901 formation of the anti-prohibitionist Carrie Nation Club to the controversial 1991 ordinance desegregating Carnival parade krewes.
Through the conflicts, Mitchell asserts, "I see in Mardi Gras much what I hear in a really good jazz band: a model for the just society, the joyous community, the heavenly city… A model for community where individual expression is the basis for social harmony and where continuity is the basis for creativity." All on a Mardi Gras Day journeys into a world where hope persists for a rare balance between diversity and unity.
.
Item Weight :

 

12.8 ounces

Paperback :

 

264 pages

ISBN-13 :

 

978-0674016231

Product Dimensions :

 

6 x 0.66 x 9.25 inches

Publisher :

 

Harvard University Press; 2nd printing Edition (March 1, 1999)