---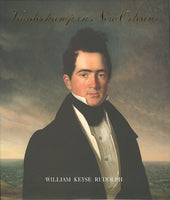 VAUDECHAMP IN NEW ORLEANS
During the 1830s, Jean-Joseph Vaudechamp (1790-1864) spent his winters in Louisiana, establishing himself as the region's leading portrait painter. He was, quite simply, the best-educated artist yet to have worked in New Orleans. Author William Keyse Rudolph traces the life and work of the French portraitist.
A star pupil of French master Anne-Louis Girodet-Trioson, Jean-Joseph Vaudechamp enjoyed a promising apprenticeship in Paris-but a competitive marketplace threatened to deny him the full measure of his artistic inheritance. In the winter of 1831-32, he left home to test his fortunes in New Orleans, a thriving city whose boundaries and population were expanding. Vaudechamp's sitters-the majority of them French Creoles-were making a clear statement of cultural identity and allegiance by choosing a French artist. His works helped revitalize the Creole community.
Vaudechamp in New Orleans is the most thorough examination to date of the career of this remarkable artist. Richly illustrated and compellingly narrated, Vaudechamp in New Orleans marks another winning entry in The Historic New Orleans Collection's Louisiana Biography Series, which is funded by the Laussat Society.
2007 • 128 pp. • hardcover • ISBN 978-0-917860-51-5 • $25
8.25" x 9.75"