---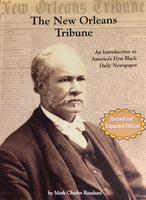 THE NEW ORLEANS TRIBUNE
Many Louisianans are aware of the sit-ins, freedom rides, and marches that made headlines in the 1950s and 1960s. But few know the long arc of the civil rights movement began in New Orleans more than one hundred fifty years ago. Surrounded by the howling madness of the Civil War and the promise of Reconstruction, the New Orleans Tribune ignited a crusade for racial justice in the Crescent City that reached far beyond the state's borders.  
This inspirational history is chronicled in Mark Charles Roudané's powerful examination one of the nineteenth century's most radical and influential newspapers. Based on years of research, The New Orleans Tribune, An Introduction to America's First Black Daily Newspaper reveals the story of a journal that openly challenged white supremacy. The Tribune's crusade for racial justice was crucial to the establishment of Black voting rights, the election of Black state representatives, and the creation of a radical state constitution with strong civil rights provisions. 
This revised and expanded edition includes dozens of new extracts and photographs, an expanded map, and a detailed historical timeline. Signed by the author. 
48 pages, measuring approximately 7" x  10" x 1/4".