---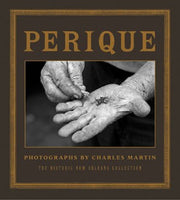 PERIQUE
ISBN: 978-0-917860-62-1
Size: 9" x 10"
Pages: 100
Softcover

Perique, prized by connoisseurs as the strongest and most flavorful of tobacco varietals, is cultivated only one place on earth: a 30-square-mile tract of land in St. James Parish, Louisiana. Harvested, bunched, and stemmed by hand, the tobacco is pressure-cured for a year in whiskey barrels. The labor-intensive cultivation process dates to the early 19th century; its rituals have descended as occupational folklore through a small group of St. James Parish families.

Photographer Charles Martin has spent eight years documenting the tradition of his forebears. Vulnerability lends urgency to the study: only a handful of working farms remain dedicated to perique cultivation, and fewer and fewer young people embrace the agricultural lifestyle of their parents and grandparents. Martin's photographs epitomize local history in their painstaking documentation of a place-specific process. Yet in their framing, and in their ability to capture the dignity of human labor, they assume universal, iconic status.

Author Charles Martin:

Charles Martin has lived his life in Louisiana along the banks of the Mississippi River. A farmer's son, he absorbed the River Parish culture, where craft is second only to hard work. Off the farm he explored the surrounding wetlands, cultivating a thorough understanding of its inhabitants and seasons as well as an appreciation for its vacillating footprint.

Martin first picked up a camera as an extension of his enthusiasm for the bayou. Inspired by his daughters to find additional means of enjoying nature outside of hunting and fishing, he thought photography would give him an opportunity to study the wetlands with less disruption. Soon, his experiences as a hunter provided him with photographic opportunities in places far out of reach of casual observers-and what began as a hobby became a passion.
Martin's initial interest in photographing nature led him to capture unexplored facets of River Parish life. Tobacco farming, raising Christmas Eve bonfires on the levee-his images tell the stories of tight-knit communities possessing a strong sense of tradition. His images are sensitive and enlightening, demonstrating a deep respect for the people he photographs.