---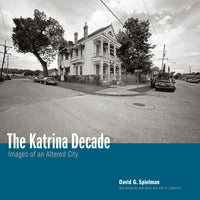 THE KATRINA DECADE: IMAGES OF AN ALTERED CITY
The Katrina Decade: Images of an Altered City
David G. Spielman, photographer
with essays by Jack Davis and John H. Lawrence

Publisher: The Historic New Orleans Collection, July 2015
Hardcover • 9" x 9" • 168 pp • 138 b&w images 
ISBN 978-0-917860-68-3


In the ten years since Hurricane Katrina's storm surge overwhelmed New Orleans's levee system, the catastrophe has lived in the public imagination as a parade of dramatic images. Often overlooked are smaller, more gradual changes.

For years, David G. Spielman has documented these inconspicuous changes, in haunting images whose simplicity evokes the work of the Farm Security Administration photographers Walker Evans, Dorothea Lange, and Gordon Parks.

About the author:

David G. Spielman is a fine-art and commercial photographer and a freelance photojournalist who has photographed presidents and other world leaders at reconciliation conferences on four continents. In 1997 he was awarded an artist's residency at the École Nationale Supérieure de la Photographie in Arles, France. His photographs have been collected in Southern Writers (1997); Katrinaville Chronicles: Images and Observations from a New Orleans Photographer (2007); and When Not Performing: New Orleans Musicians (2012). New Orleans has been his home for more than forty years.