---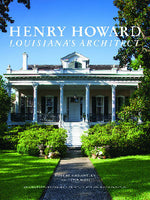 HENRY HOWARD: LOUISIANA'S ARCHITECT
Henry Howard: Louisiana's Architect
by Robert S. Brantley with Victor McGee

Photographs by Robert S. Brantley and Jan White Brantley

hardcover • 352 pages • 8.9 x 12 inches • 330 color images
ISBN 978-1-61689-278-4
Published by The Historic New Orleans Collection and Princeton Architectural Press, 2015

One of the nineteenth century's most prolific architects but also, until recently, one of the most historically elusive, Henry Howard (1818-1884) left an indelible mark on the landscape of his adopted home, Louisiana. 

Born in Ireland, Howard immigrated to New York in the mid-1830s. Within two years he followed his brother south to New Orleans, the nation's third-largest city and the center of a flourishing plantation economy. Through the following decades, Howard and the city would thrive together.

Working twenty-hour days juggling private, ecclesiastical, and civic commissions, Howard gave Louisiana some of its most iconic structures: the Pontalba buildings on New Orleans's Jackson Square, the Robert Short house in the Garden District, and a string of legendary plantation houses along the Mississippi River. At a time when most architects also acted as builders, Howard worked almost exclusively as a designer, a practice that helps explain the staggering variety and volume of his known works. And yet his name seldom appears in the same breath as those of his more famous contemporaries, architects James Gallier and James Dakin. Indeed, some of his greatest designs, most notably Belle Grove Plantation, were for decades attributed to others. The photographer and architectural historian Robert S. Brantley provides a comprehensive survey of Howard's career in this meticulously researched collection. Lavishly illustrated with photographs both new and historical, and interspersed with archival drawings and plans, Henry Howard: Louisiana's Architect restores its subject to his rightful place in the pantheon of southern architects.

Robert S. Brantley is a New Orleans-based architectural photographer, researcher, and writer. His work has appeared independently and with that of his late wife, Jan White Brantley, in numerous magazine articles and books on New Orleans and Louisiana. Originally from Georgia, he has made New Orleans his home since 1977.