---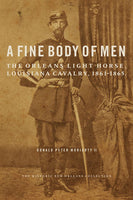 A FINE BODY OF MEN
A Fine Body of Men
The Orleans Light Horse, Louisiana Cavalry, 1861-1865
The Historic New Orleans Collection 2014
Softcover • 6" × 9" • 304 pp.
28 b/w images
ISBN-13: 978-0-917860-67-6

As armies formed across the country in early 1861, the call to the colors sounded and volunteer groups began to assemble. One such unit formed in New Orleans was the Orleans Light Horse, an independent light cavalry troop described by the New Orleans Daily Picayune as "a fine body of men all splendidly mounted." In this thoroughly researched Civil War regimental history, Donald P. Moriarty follows the Orleans Light Horse from its organization in February 1861 through its March 1862 muster into active service with the Confederate States Army to the war's end in 1865. As the escort company to Lieutenant General Leonidas Polk and later Lieutenant General Alexander P. Stewart, the Orleans Light Horse was an integral part of the Army of Mississippi and the Army of Tennessee. A Fine Body of Men provides service records and additional biographical information for the company's 215 cavalrymen, while inviting readers to experience the major campaigns of the Civil War's Western Theater alongside these brave soldiers. 

About the Author
A native of Louisiana currently residing in California, Donald Peter Moriarty II is a retired lieutenant colonel of the US Army.