---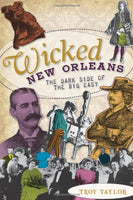 WICKED NEW ORLEANS
A look back at New Orleans's early wicked days and historic crimes
Since as early as the 1700s, New Orleans has been a city filled with sin and vice. Those first pioneering citizens of the Big Easy were thieves, vagabonds and criminals of all kinds. By the time Louisiana fell under American control, New Orleans had become a city of debauchery and corruption camouflaged by decadence. It was also considered one of the country's most dangerous cities, with a reputation of crime and loose morals. Rampant gambling and prostitution were the norm in nineteenth-century New Orleans, and over one-third of today's French Quarter was considered a hotbed of sin. Tales in this volume include that of the notorious Axeman who plagued the streets of the Crescent City in the early 1900s and Kate Townsend, a prostitute who was murdered by her own lover, a man who later was awarded her inheritance.
Item Weight :

 

9.6 ounces

Paperback :

 

128 pages

ISBN-13 :

 

978-1596299450

Product Dimensions :

 

6 x 0.31 x 9 inches

Publisher :

 

The History Press (June 25, 2010)
About the Author
Troy Taylor is an occultist, supernatural historian and the author of seventy-five books on ghosts, hauntings, history, crime and the unexplained in America. He is also the founder of the American Ghost Society and the owner of the Illinois and American Hauntings Tour companies. Taylor shares a birthday with one of his favorite authors, F. Scott Fitzgerald, but instead of living in New York and Paris like Fitzgerald, Taylor grew up in Illinois. Raised on the prairies of the state, he developed an interest in "things that go bump in the night" at an early age. As a young man, he channeled that interest into developing ghost tours and writing about haunts in Chicago and Central Illinois. Troy and his wife, Haven, currently reside in Chicago's West Loop neighborhood.