---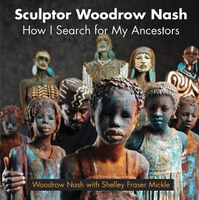 Sculptor Woodrow Nash: How I Search for My Ancestors
Woodrow Nash's sculptures of enslaved children populate the first American slavery museum—Whitney Plantation in Wallace, Louisiana. His works breathe spirit into history, a legacy as painful as it is inspiring, a vision that engages us in powerful ways.

The stories he tells of his artistic process and the images of proud figures fill this unusual book with emotion. Award-winning novelist Shelley Fraser Mickle became friends with Nash and together they crafted a strong statement that illuminates the true history of slavery and the shadows it casts on all Americans.

In a collection of biographies informed by historical documents, Nash and Mickle walk readers through his creation of proud statues celebrating African royalty and rough images of enslaved children still carrying the vestiges of their fierce heritage. The research that binds the images to our reality is found in ship's manifests, post-Civil War cartes de visite, and a wealth of books and articles cited in the bibliography.

A brief history of sculpture provides context for the art created by Nash—sculptures that illuminate the lives of Africans before their enslavement and reveal their resilience in their new existence. Stunning photographs frame the story and beautifully capture the relationship between artist and creation in this one-of-a-kind book for young readers.