---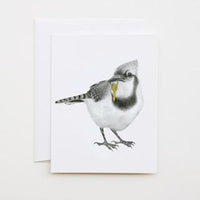 Ray Pembroke Blue Jay Note Card
4.25 x 5.5", blank inside
ON THE BACK OF THE CARD:
He may be a blue jay, but Ray Pembroke hasn't been blue for one second of one minute of his entire life. From the moment he was born, he had a sparkle in his eye and a sunny disposition. And that is just why his mom named him Ray.
As a chick, Ray's wings had developed a little differently than the other birds of his band, compromising his ability to fly. But it didn't slow him down one bit; he didn't see his differences as shortcomings, but as challenges. Ray relished reaching his goals in ever unique, creative ways. And, sure enough, he always did.
As Ray grew older, his curiosity and problem solving helped out more people than one could name. He became fascinated by getting into things, and getting out of things. Perhaps it's the symbolism and notion of not 'being locked out' that drives him. Keys, both figurative and literal, took hold of his imagination. He fashions them out of paper clips; tin cans; nut shells; tree bark; shale....keys to houses, cars, gates, lock boxes, and, invariably, because of his shining spirit, more than a few hearts.
WE DONATE:
Thanks to your purchases, we donate 10% of gross sales to animal welfare causes: our raison d'être. We donate to different organizations as needs change; please visit The Log for the skinny on our latest sponsorships.
PROTECTING OUR PLANET:
lecanotrouge Art Prints are printed exclusively on 100% cotton fiber velvet fine art paper with an acid free base.  This archival, tree-free paper helps protect our forests while also allowing us to produce prints with colour that really pops.  
Proudly made in the USA