---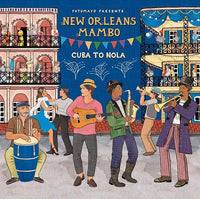 NEW ORLEANS MAMBO CD - PUTUMAYO
Cuba and New Orleans have been engaged in a cross-cultural dance for hundreds of years, and that legacy lives on in the sounds of the Crescent City today. Legendary New Orleans pianist and jazz pioneer Jelly Roll Morton called the Afro-Cuban rhythms embedded in New Orleans music "the Spanish tinge." Morton went even further, claiming, "If you can't manage to put tinges of Spanish in your tunes, you will never be able to get the right seasoning for jazz."
​
Going Back To New Orleans / 

Poncho Sanchez

Jive Samba / 

Los Po-Boy-Citos

Coconut Milk / 

Bo Dollis & The Wild Magnolias

Jambalaya / 

New Orleans Heartbreakers with Big Al Carson

Panama Tones / Nuevo Boogaloo / 

The Iguanas

Yellow Moon / 

The Neville Brothers

Kreyol

 / 

Preservation Hall Jazz Band
The musical feast begins with the rhythm and blues classic "Going Back to New Orleans" performed by one of the most popular figures in the contemporary Latin Jazz scene, Poncho Sanchez. Dr. John follows up with his Latin-tinged classic "Mos' Scocious." Next, Los Pos-Boy-Citos explore the influence Cuban music has had on the Big Easy with their boogaloo reworking of "Jive Samba."
​
Born out of the unique Mardi Gras Indian parade tradition, Bo Dollis & The Wild Magnolias bring their street marching swing into the studio with the syncopated second line grooves of "Coconut Milk." Then, old time jazz troupe New Orleans Heartbreakers' take on a standard inspired by Louisiana's Cajun cuisine, "Jambalaya", performed together with late New Orleans native, Big Al Carson.
​
Zazou City draws inspiration from an eclectic range of styles, from Gypsy jazz to Argentinian tango, and their horn-laden original "Mañanita" stirs them into an undeniable blend of Latin and New Orleanian jazz. Next we dive right back into the Cuban-tinged grooves of the boogaloo genre on "Panama Tones / Nuevo Boogaloo" by Crescent City staple, The Iguanas. Any New Orleans collection would be incomplete without The Neville Brothers and here they invoke the often-overlooked connections between their home city and its Caribbean neighbors with the title track from their 1989 album, "Yellow Moon."
​
Salsa is one of the most prominent musical styles to have arisen from Cuban and Puerto Rican migration to the United States and, while the sound first caught fire in New York City, Otra has kept it echoing in the clubs of New Orleans for nearly 20 years. They deliver an instrumental rendition of the tune "Nature Boy,"originally by the mysterious eden abhez and made famous by
Nat King Cole. We close out our compilation with a true New Orleans institution, Preservation Hall Jazz Band, and a song inspired from their trip to Cuba in 2015 to uncover the island's common musical heritage and the roots of New Orleans jazz captured by their documentary film, A Tuba to Cuba.
​
Putumayo Presents New Orleans Mambo reveals that the Cuba to New Orleans connection is still going strong and this musical gumbo continues to spice up the sounds of the Big Easy.