---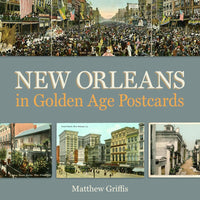 NEW ORLEANS IN GOLDEN AGE POSTCARDS
New Orleans in Golden Age Postcards


By
Matthew Griffis
Hardcover :
9781496830258, 416 pages, 313 color illustrations, September 2020
A fascinating tour of historic New Orleans as seen in rare postcards from the early twentieth century
New Orleans in Golden Age Postcards showcases over three hundred vintage postcard images of the city, printed in glorious color. From popular tourist attractions, restaurants, and grand hotels to local businesses, banks, churches, neighborhoods, civic buildings, and parks, the book not only celebrates these cards' visual beauty but also considers their historic value. After providing an overview of the history of postcards in New Orleans, Matthew Griffis expertly arranges and describes the postcards by subject or theme. Focusing on the period from 1900 to 1920, the book is the first to offer information about the cards' many publishers.
More than a century ago, people sent postcards like we make phone calls today. Many also collected postcards, even trading them in groups or clubs. Adorned with colorized views of urban and rural landscapes, postcards offered people a chance to own images of places they lived, visited, or merely dreamed of visiting. Today, these relics remain one of the richest visual records of the last century as they offer a glimpse at the ways a city represented itself. They now appear regularly in art exhibits, blogs, and research collections. Many of the cards in this book have not been widely seen in well over a century, and many of the places and traditions they depict have long since vanished.
"This beautiful book will appeal to aficionados of New Orleans's built environment, to those interested in the cultural history of the postcard, and to everyone who loves the aesthetics and artistry of vintage graphics. "

- Richard Campanella, geographer, author, and professor at Tulane University
"A captivating and richly detailed exploration into the visual culture of New Orleans's past. Through painstaking research Griffis has succeeded in welcoming his readers into the fascinating world of deltiology, bringing us rarely seen early twentieth-century glimpses of one of America's most celebrated cities. "

- Heather Veneziano, New Orleans–based architectural historian
"It is well researched, accurate, and informative and will be of great interest both historically and as general reading. It is also the perfect gift for any visitor to the Crescent City as a reminder of time spent there or as a gift to someone at home. New Orleans is unique on so many levels, and this excellent book captures many important elements of its rich and colorful history in an enjoyable and easily readable way. "

- Scott Faragher, author, music agent, and manager