---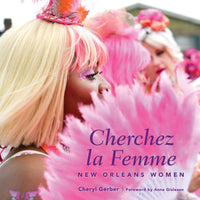 CHERCHEZ LA FEMME
Cherchez la Femme: New Orleans Women
Book summary:  
Contributions by Constance Adler, Karen Celestan, Alison Fensterstock, Kathy Finn, Helen Freund, Cheryl Gerber, Anne Gisleson, Cherice Harrison-Nelson, Karen Trahan Leathem, Katy Reckdahl, Melanie Warner Spencer, Sue Strachan, Kim Vaz-Deville, and Geraldine Wyckoff

New Orleans native Cheryl Gerber captures the vibrancy and diversity of New Orleans women in Cherchez la Femme: New Orleans Women. Inspired by the 2017 Women's March in Washington, DC, Gerber's book includes over two hundred photographs of the city's most well-known women and the everyday women who make New Orleans so rich and diverse. Drawing from her own archives as well as new works, Gerber's selection of photographs in Cherchez la Femme highlights the contributions of women to the city, making it one of the only photographic histories of modern New Orleans women.

Alongside Gerber's photographs are twelve essays written by female writers about such women as Leah Chase, Irma Thomas, Mignon Faget, and Trixie Minx. Also featured are prominent groups of women that have made their mark on the city, like the Mardi Gras Indians, Baby Dolls, and the Krewe of Muses, among others. The book is divided into eleven chapters, each celebrating the women who add to New Orleans's uniqueness, including entertainers, socialites, activists, musicians, chefs, entrepreneurs, spiritual leaders, and burlesque artists.
ISBN-10: 1496825209  
ISBN-13: 978-1496825209  
Publisher: University Press of Mississippi    
Year published: December 26, 2019 
Hardcover: 272 pages  
Product dimensions: 10.3 x 1.1 x 10.3 inches 
Shipping weight: 3.8 pounds