---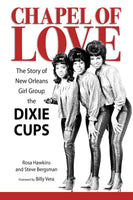 CHAPEL OF LOVE
In 1963, sisters Barbara Ann and Rosa Hawkins and their cousin Joan Marie Johnson traveled from the segregated South to New York City under the auspices of their manager, former pop singer Joe Jones. With their wonderful harmonies, they were an immediate success. To this day, the Dixie Cups' greatest hit, "Chapel of Love," is considered one of the best songs of the past sixty years.
The Dixie Cups seemed to have the world on a string. Their songs were lively and popular, singing on such topics as love, romance, and Mardi Gras, including the classic "Iko Iko. " Behind the stage curtain, however, their real-life story was one of cruel exploitation by their manager, who continued to harass the women long after they finally broke away from his thievery and assault. Of the three young women, no one suffered more than the youngest, Rosa Hawkins, who was barely out of high school when the New Orleans teens were discovered and relocated to New York City. At the peak of their success, Rosa was a naïve songstress entrapped in a world of abuse and manipulation.
Chapel of Love: The Story of New Orleans Girl Group the Dixie Cups explores the ups and downs of one of the most successful girl groups of the early 1960s. Telling their story for the first time, in their own words, Chapel of Love reintroduces the Louisiana Music Hall of Famers to a new audience.
Hardcover : 9781496829566, 192 pages, 21 b&w illustrations, May 2021