---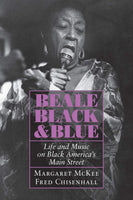 BEALE BLACK & BLUE
W. C. Handy, Furry Lewis, Booker White, Lillie May Glover, Roosevelt Sykes, Arthur Crudup, B. B. King, Bobby Blue Bland, Muddy Waters -- these and other musicians, singers, and songwriters, including the young Elvis Presley, eventually went to Beale Street in Memphis, Tennessee, to learn, improve, and practice their art. "To Handy and untold other blacks, Beale became as much a symbol of escape from black despair as Harriet Tubman's underground railroad," says Margaret McKee and Fred Chisenhall.
They present Beale as a living microcosm of determination, survival, and change -- from its early days as a raucous haven for gamblers and grafters and as a black show business center to its present-day languishing. Choosing the former newspaper columnist, disc jockey, and schoolteacher Nat. D. Williams, as their main authority for the first part of this volume -- the street's history -- the authors have selected an individual with wisdom, perspective, and a distinctive voice that speaks from a lifetime of experience on Beale. His radio show on WDIA, "Tan Town Jamboree," was heard by thirteen-year-old Elvis Presley. Nat D. said, "We had a boast that if you made it on Beale Street, you can make it anywhere. And Elvis Presley made it on Beale first." Another Beale Streeter recalls, "He got that shaking, that wiggle, from Charlie Burse -- Ukulele Ike we called him -- right there at the Gray Mule on Beale."

The street's history is richly complemented by the rare, extensive interviews that constitute the second half of the volume. "We undertook our research," the authors tell us, "not as a study of the blues but of the blues musicians themselves. They were a dying breed, these wandering minstrels who had become the principal storytellers of their people." Most of the musicians interviewed grew up in the rural southern areas where the authors found them, sometimes not far from their early homes. They tell of the music that took them to Memphis' street of the living blues. All show a resilience to despair, despite life's harsh times. Arthur "Big Boy" Crudup, who never received his accumulated royalties, shrugs, "I come here with nothing and I ain't going away with nothing, and it's no need worrying my life with it." In the life of Beale Street and in the conversations of its musicians, we experience with penetrating awareness a delicate balance of humor, courage, and pain.
Publisher :

 

LSU Press (September 1, 1993)

Paperback :

 

265 pages

ISBN-13 :

 

978-0807118863

Item Weight :

 

13.4 ounces

Dimensions :

 

5.98 x 0.57 x 9.04 inches